What is Preventive Dentistry?
The best way to obtain optimal oral health and avoid the need for restorative procedures is to prevent problems in the first place. Thorough oral hygiene each day - brushing, flossing and using fluoride toothpaste - and an office visit every six months for routine examinations and cleanings will help you avoid most problems. Our philosophy at Stewart Family Dentistry is to try to prevent as many problems before they begin. Studies show there is a link between oral health and overall health. So, having a healthy mouth through preventive dental care can actually help you have a healthier body.
During a cleaning appointment, each patient will receive a thorough oral cancer screening, periodontal screening and cavity risk assessment. Fluoride treatments, sealants and nutrition counseling will be offered and provided as necessary and when desired.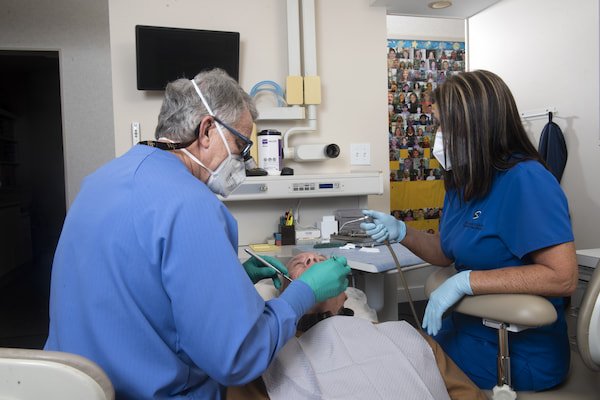 Every patient receives a comprehensive oral cancer screening at Stewart Family Dentistry. An examination typically consists of visual inspection and palpation. We check for new or worsening facial asymmetry, masses, skin lesions, facial paralysis, swelling or changes in your voice, as these might be symptoms of oral cancer.
All patients are screened for periodontal or gum disease. These screenings determine your risk for periodontal disease and reveal early signs and symptoms. Periodontal disease is an inflammatory condition affecting the tissues surrounding a tooth and is the leading cause of tooth loss. Gingivitis is a bacterial infection of the tissues in the mouth and a potential precursor of gum disease.
Some factors elevate your risk for periodontal disease, such as smoking, family history or poor oral hygiene habits. Other complex health problems that have a known link to oral disease are diabetes, cardiovascular disease or osteoporosis. Together we can help you avoid major problems.
Cavity risk assessments are based on information you provide us about your lifestyle, habits and health history. For instance, routine visits to the dentist, consistent and thorough at-home dental hygiene, such as brushing, flossing and using fluoride toothpaste, decrease your risk of cavities. Other factors like a dry mouth, a common side effect of many prescription medications, orthodontic appliances, a history of cavities and a diet high in sugary foods make you more prone to tooth decay. If we feel you are at a higher risk, we may suggest additional treatment regimens or changes in diet.
Sealants are a protective seal for deep pits and grooves where cavities frequently form. A cavity risk assessment will indicate if you would be a good candidate. Sealants on permanent molars are often used for children who are still learning consistent and thorough dental hygiene practices.
A well-balanced diet and adequate water are the keys to good oral health. We offer diet counseling to point you in the right direction on proper nutrition for optimal health of your teeth and gums. We encourage all of our patients to visit our office every six months for routine examinations and cleanings. Sometimes, more frequent visits are needed on a case by case basis.
Stewart Family Dentistry also offers professional strength fluoride applications to help you avoid tooth decay. Fluoride helps prevent mineral loss from tooth enamel and strengthens weak areas of your teeth. Fluoride also helps reduce acids that break down tooth enamel, such as fruit, coffee and soft drinks.
At Stewart Family Dentistry, we recognize children have different healthcare needs than adults. Dr. Bill Stewart has been treating children since he opened the dental practice in 1980. We now see generations of families and Dr. William Stewart has young children of his own, so we understand creating a stress-free and welcoming environment is a priority for not only children, but the parents as well. We use the tell, show, do technique while treating our youngest dental patients, to make sure they know exactly what to expect during the appointment. Our entire team is dedicated to working with parents to help children establish a good oral hygiene regimen.